Veterans Programs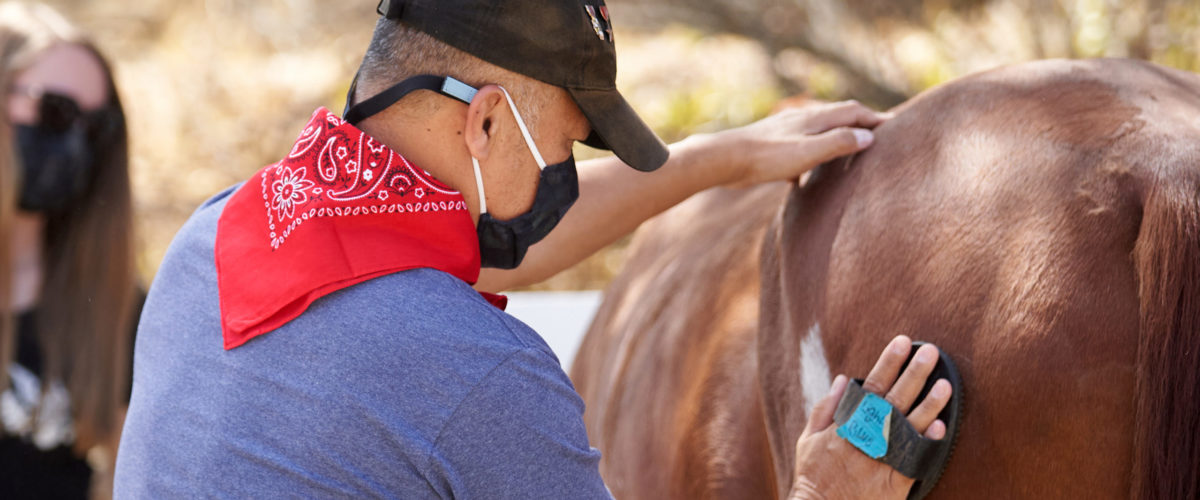 Thrive With Horses understands and appreciates the many challenges Veterans face following service. Exposure to horses can help Veterans come to terms with their experiences and can aid in easing the trauma of post-traumatic stress, injury, and loss. Horses offer a completely non-judgemental and inherently honest space that requires complete concentration and focus in the moment. The confidence gained through mastery of riding and horsemanship skills is an amazing confidence builder.  Additionally, for the truly committed it can be an opportunity to build a career with horses.
Annual Warrior Riders Event
In 2019, we held an event offering Veterans the opportunity to connect with horses. The success of this event inspired us to make veterans a regular part of our program.  This event offers Veterans and their families an opportunity to work with our amazing horses, ponies, and volunteers. This annual event consists of educational tutorials, riding experiences, crafts, and dinner. This is a fun day had by all participants and volunteers and something that our community looks forward to every year.
Horsemanship and Riding Classes
Thrive with Horses offers horsemanship classes to veterans who wish to further develop their skills with horses. Through the horsemanship classes veterans will develop basic riding skills, learn how to do groundwork, learn overall care of horses, and be immersed in a community of horse and pony lovers.
Horsemanship Classes
Our Horsemanship program provides a complete education in horse care, handling and riding. During this 3-hour class, students learn:
– Grooming, bathing & hoof care
– Equine first aid, common ailments & treatments
– Feeding
– Safety & arena etiquette
– Care of saddles, bridles & tack
– Riding
Horsemanship classes offer opportunities to experience new challenges and develop new ways to approach and solve problems. The connections made between horse and rider are unique. Thrive with Horses seeks to foster this connection, bringing peace and healing to our clients.
Riding Lessons
Riding lessons specifically focus on the development of the riders ability. Through riding lessons we further educate on technique and enhance one's riding ability. Riding lessons are 50 minutes and include one on one instruction.